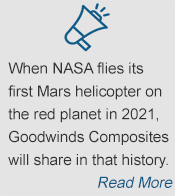 From tents and guitars to helicopters on Mars, small diameter composite rods and tubes make excellent structural components in a wide variety of products.
Product design and prototyping with composites are easier than ever with off-the-shelf and custom carbon and fiberglass rods and tubes from Goodwinds Composites.
1. Composites are super strong
Carbon rods are stiffer than steel and resistant to fatigue and wear. Pultruded carbon and fiberglass are designed to be strong in a specific direction and wrapped composite tubes can be designed to have incredible hoop strength and impact resistance.
2. Composites are lightweight
You can quickly reduce the weight of your product by replacing steel or other metal rods and tubes with carbon or fiberglass. Carbon is 5x lighter than steel and almost 2x lighter than aluminum.
3. Composites are resistant to environmental changes
Is humidity a factor in your product? What about temperature fluctuations or corrosion? Temperature and moisture have very little effect on carbon and fiberglass, so you can count on your product attributes, such as size and strength, remaining unchanged whether it is hot or cool, wet or dry.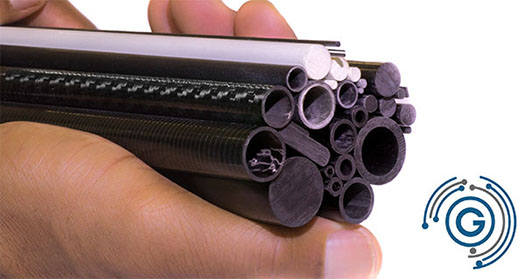 4. Goodwinds Composites stocks a variety of sizes for fast prototyping.
We offer off-the-shelf sizes ranging from .020" to .750" in diameter for our carbon and fiberglass rods and tubes. We have no minimum orders and we are happy to cut your composite rods and tubes to your specification at no charge.
5. Goodwinds Composites makes custom rods and tubes
Our engineers can design a wrapped carbon tube to meet your exact specifications, from diameter and wall thickness to stiffness and hoop strength. We custom pultrude micro carbon rods from .020" to .125" in diameter
6. Composite rods and tubes are machinable.
Goodwinds Composites precision machines carbon and fiberglass rods and tubes to tight tolerances. We can grind to a specific outer diameter, cut to within .005", mill, drill, chamfer, sand, and many other secondary processes.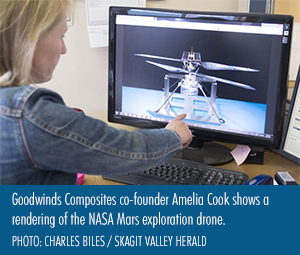 7. Composites are truly space age!
In the past ten years, composites have completely transformed the aerospace industry, allowing us to go farther, faster, using less fuel. Consumer goods, industrial machinery, construction, automotive, energy, and so many more industries have left traditional materials behind in favor of composites.
Composites have the power to transform your products and the way you manufacture them. Goodwinds Composites can help find the right carbon and fiberglass rods and tubes for your applications.